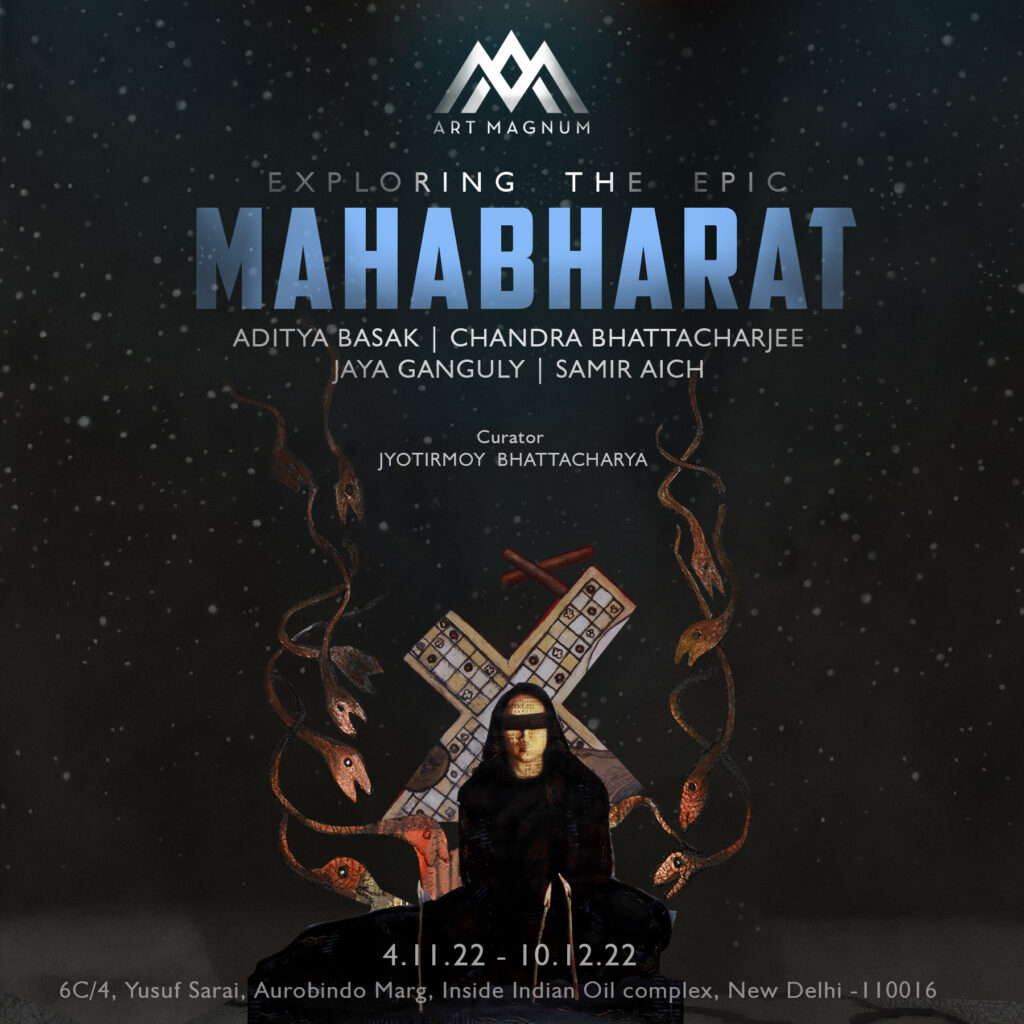 The preview of the exhibition Exploring the Epic Mahabharat featuring the artworks of the artists Aditya Basak, Chandra Bhattacharjee, Jaya Ganguly and Samir Aich will be held on Friday, November 04, 2022 at Art Magnum, New Delhi. Shri Manu Parekh will be the Chief Guest. The exhibition is curated by Jyotirmoy Bhattacharya (Curator, Art Alinda, Kolkata) . It will be continuing till December 10,2022.
About the Artists:
Aditya Basak (b.1953) received his degree from the Government College of Art and Craft, Calcutta in 1977.A winner of scores of awards in India and abroad he has taken part in 100 group shows. He has participated in Bharat Bhavan Biennale, in the Icon Art Gallery, New York exhibition and Indian triennial of World Art celebrating 50 years of Indian Independence. He has exhibited in Toronto, Berlin, Munich, Singapore, London, Hong Kong and Bangladesh. His video work 'Death foretold' was screened at the Indo- British Film Festival organised by British Council in 2001. His other works 'Chronicle' was screened at the first short film festival of CSFF at Nandan, Kolkata in 2004.
His works are included in collections of Lalit Kala Academy and National Gallery of Modern Art (NGMA), New Delhi, Birla Academy of Art and Culture, Kolkata, Tata Steel, SBI , etc.
Chandra Bhattacharjee (b.1960) graduated from the Indian College of Art and Draughtsmanship with a first class in 1986. He received a gold medal from Rabindra Bharati University in the same year for excellence in fine arts. He received the Taj Gaurav awarded in 2008. He started his career as a billboard artist. Exhibitions of his paintings held at The Gallery in Cork Street, London (in collaboration with Threshold Art), Palette Art Gallery and Art Heritage, New Delhi, Gallery 88 and The Harrington Street Arts Centre, Kolkata, Gallery Beyond, Mumbai, Sumukha Art Gallery, Bangalore and Gallery Veda , Chennai. Chandra's works are imbued with his environment, the changes, his emotion and response.
Jaya Ganguly (b.1958) graduated from the Indian College of Arts, Kolkata in 1980. Figure, forms, object, masks, landscapes in violent dislocation, all in the whirl of movement, constitute Jaya's universe with blots and blocks of colour. Her first solo exhibition was held at the Academy of Fine Arts, Kolkata. Besides, her artworks were exhibited in several museums and art galleries (including Tao Art Gallery, Mumbai). She was invited to participate in the Festival of India, Sweden in 1987. Her works have been acquired by National Gallery of Modern Art (NGMA), the Consulate of the Netherlands, New Delhi, etc.
Samir Aich (b.1957) graduated from the Government College of Art and Craft, Kolkata in 1978. He has been painting for almost three decades now. He started out as a neo-realist and gradually moved into semi-abstract figurative themes. He constantly experiments with new pictorial concepts and ideas. His sculptures and installations are complementary to his painted expression. Exhibitions of his works were organised in New Delhi, Kolkata, Mumbai, and Chennai. Besides, he has also participated in group shows in India and abroad since 1984.