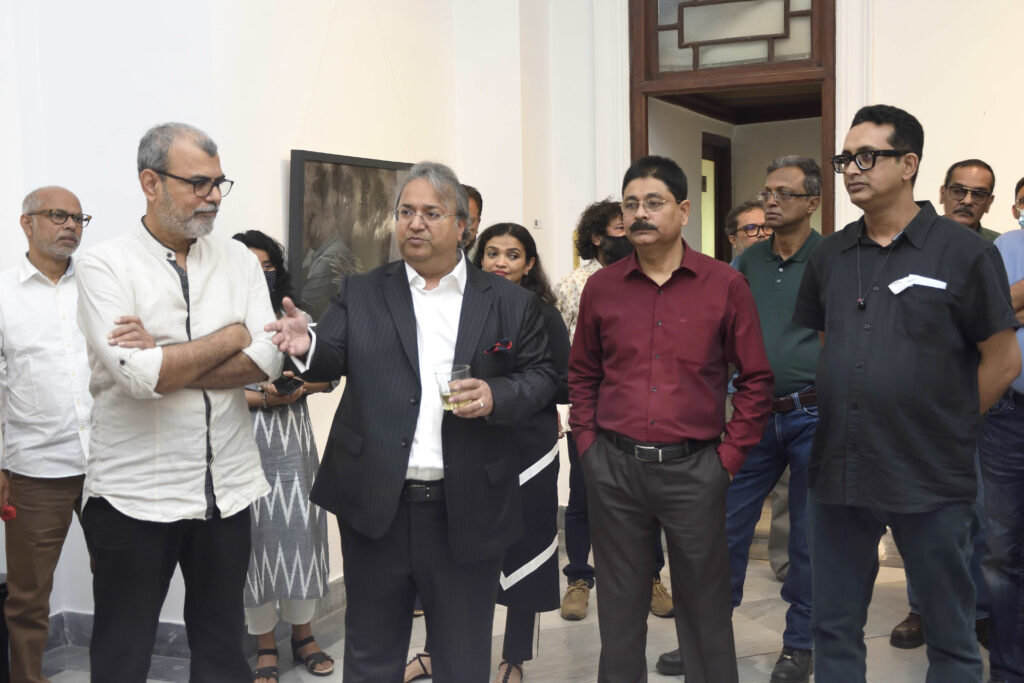 Beyond Nabadwip's Poramatala Mandir, stood Kanai Karmakar's photography studio, a landmark called Prantik. It was as if Kanai knew magic. He could conjure up technicolour pictures from black and white shots, transform smaller images into larger forms, all in the blink of an eye. An alumnus of the Art School in Kolkata, Kanai Karmakar, and his studio, attracted many a student hoping to pick up tips on the art of photography.
One of Karmakar's students-from the nearby village of Patuli- had just enrolled in Nabadwip Vidyasagar College with stars in his eyes and the dream of becoming an artist.
As he worked in the studio, the student overheard a conversation between Karmakar, and a guest who had just arrived- Tapan Saha, a Nabadwip native who had shifted to Kolkata for professional reasons. He was wondering if Kanai knew of any artist who could paint hoardings. Sensing an opportunity, the student overcame his reservations and jumped up to declare his intent to take up the job. Tapan too must have sensed something, and hired him on the spot. However, the student had a condition. He said he could take up the job right away, provided he was allowed to attend classes in the 'art college' in Kolkata. He said this part of the agreement was simply non-negotiable.
So on a hot summer day in 1980, Chandra Bhattacharjee found himself in Kolkata. A 10 ft by 10ft dingy room in Kolkata's Kolay Market became the young man's living quarters for the next several years. He shared it with four others, who worked as billboard painters or simply 'helpers'. Chandra soon became their star painter, balanced on bamboo poles by day and sitting in a small classroom at the Indian Art College by night. Thus began the more definitive part of his journey as an artist.
Chandra was born in 1961. His father, Bijoy Kumar Bhattacharjee was a school master and also an erstwhile freedom fighter who had been jailed by the British during the independence struggle. Chandra lost his father when he was just nine. His father's widowed sister, Ashalata Debi, his pishima (paternal aunt), became the rock of his large family of seven siblings, holding it together with his now- widowed mother.
Chandra's downtime with his pishima have now become his most joyous childhood memories. He spent most of his time with her in a village called Patuli, in Bardhaman, by the ganga, growing up amid the gentle greenery of Bengal, climbing trees and herding goats across expansive paddy fields. Unlike everyone around him, he did not take Nature for granted. It was an ordinary childhood, made extraordinary by the fact that unknown to Chandra, his receptive mind was collecting and storing every last aspect of what was around him- the place, the people, the visible and the hidden.
The 'little details' that everyone omitted or slighted filled him with wonder. His ailing father, in the last years of his life, had set up a small tailoring unit. Chandra was fascinated by his perfectionist father's handiwork, and just could not get over the fact that once mended , the torn part of the fabric could not be distinguished from the rest of it. It was as good as new , he would say to himself incredulously. He mostly kept his observations to himself. He was similarly intrigued by the potters in the neighbouring village , observing their deft hands moulding divinity out of common clay. So, through these 'simple' snatches, his inchoate artistic temper took shape, gradually morphing into a craving that has not been bunted by time.
Back in those pre-flex days, billboards had to be hand painted. The painter had to stand on hemp-bound bamboo scaffoldings often at sizeable altitudes while blowing up the small drawings on paper to giant , larger than life proportions. Chandra did not take much time to master this skill. One day , thus precariously perched, he noticed a white Ambassador car draw up below him. A lady alighted and gestured at him to come down.
Once down to earth , Chandra realised with a start that he was talking to Shanu Lahiri, the Dean of Rabindra Bharati University. In those days, the Indian Art College was under Rabindra Bharati University. She asked him if he could blow up one of her paintings on a wall in a side street in central Kolkata. Chandra readily agreed and was at it early morning the next day, the better part of the day being reserved for his hoardings. It did not take long for Shanu Lahiri to recognise the young man's apparently innate draughtsmanship. Soon they became close associates and she warmly included Chandra in the intimate circle of Kolkata's senior artists.
After college, Chandra joined The Economic Times in Kolkata as a designer. Meanwhile, his readiness to seek out and absorb new influences and guidances, his tempered boldness stood him in good stead. In Kolkata, he came in contact with men and women who appreciated this deceptive fervour. One of them was the Leftist revolutionary, Narayan Gangopadhyay, who lived in bedsitter above him at Kolay Market. It was more a library than a room, Chandra saw. Books ranging from politics to art to history and philosophy were scattered everywhere, and at night, Chandra found himself among these books."
– Jyotirmoy Bhattacharya